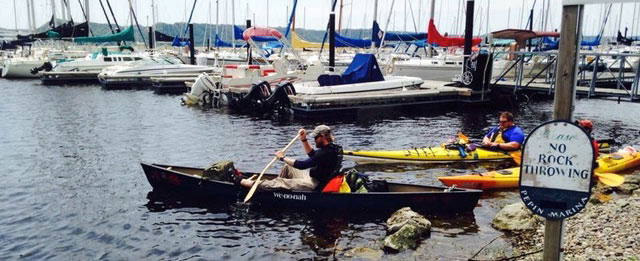 Joshua wanted to highlight the problems of PTSD for his comrades and all who live under its shadow in the hope that even more help and understanding could be achieved, with this aim Joshua decided to paddle the entire length of the Mississippi, a journey nearing 2,575 miles that would be very personal, as he shares that same battle as many others.
Carrying the American Baton with its "Message of Conscience" for our American allies Joshua drew people to him and his aims in a way that shows the best in humanity and in the process achieved so much.
Raising funds for charities, including the Baton and the then current American Baton custodians "The Allied Forces Foundation" Joshua completed his journey with 51 days paddling, 71 days overall with breaks, a journey that thousands have shared and gained incredible strength from on a truly international level.
In the short 6 year history of the Baton nobody has carried a baton with more purpose and dignity that the Baton deserves than Joshua, one only has to go to the "Paddle Off The War" Facebook site to see just how many people have been affected in a positive way by Joshua's effort, their thoughts and posts a testament to his aims, especially after holding the Baton themselves.
There is so much more that could be said about Joshua's event, but heartfelt thanks to you Joshua for your belief in the Baton's cause and for all you have done for your brothers in arms – at home and across the world, you will always be very much part of a Baton Family who care deeply about being loyal to those who loyally serve and their families …
Links..
https://www.facebook.com/groups/719048058145681/
https://www.dvidshub.net/video/352298/paddle-off-war-b-roll (watch both videos the 2nd a must!)
http://navyleaguememphis.org/index.php/events/paddle-off-the-war
https://apimagesblog.com/blog/2014/08/07/paddle-off-the-war
https://www.facebook.com/pg/TheBaton/photos/?tab=album&album_id=1014629215219413
http://alliedforcesfoundation.org